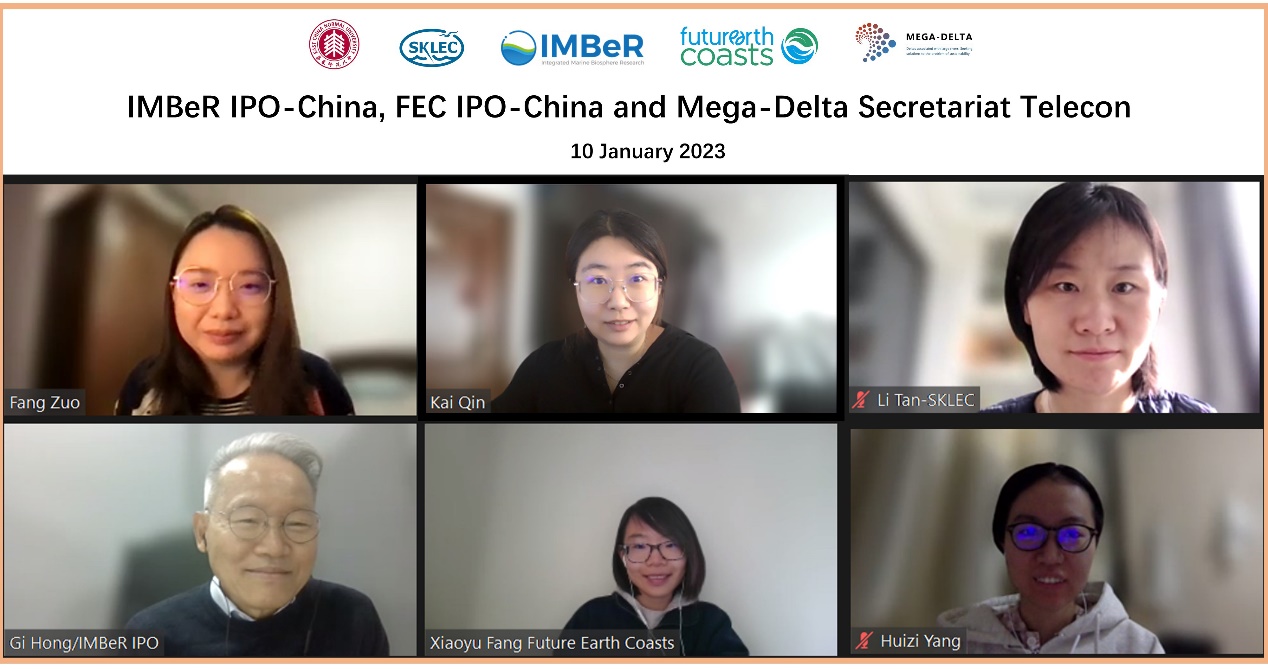 The regular IMBeR IPO-China, FEC IPO-China and Mega-Delta Secretariat Telecon was organised on 10 January 2023, with the participation of IPOs' staff from IMBeR, FEC, and Mega-Delta Secretariat. Hosted by IMBeR IPO-China, the meeting addressed actions arising from previous meetings, reviewed highlights during the period from November 2022 to January 2023, and outlined upcoming activities/events. Furthermore, new collaboration proposals were put forward at the meeting. The key uptakes from the meeting are:
· Representatives of IMBeR IPO-China attended the UN Regular Process workshop (in support of the third World Ocean Assessment) in Belitung, Indonesia on 12-16 December. Prof. Hong, IMBeR Strategy Director, gave a presentation titled "Assessment of Water-Smartness of Coastal Megacities: Science and Solution". Meanwhile, Fang Zuo, IMBeR Deputy Executive Director, presented a research overview of Bohai Sea on behalf of the IMBeR-FEC CMWG Chinese Case Study Group and reported the workshop group summary.
· IMBeR IPO-China delegates visited the National Institute of Oceanography, Pakistan on its 40th anniversary. Follow-up collaborations between the parties are to be anticipated.
·In December, IMBeR IPO-China briefed Future Earth on its recent developments. The latest Future Earth newsletter includes three IMBeR updates below. Detailed updates can be read here.
- Updated IMBeR OC-PC Study Group report: Brief Overview on Ocean Color Sensors and Their Data
Access (Version #2),
- Recording: Webinar – Tour of Asian Marginal Seas,
- IMBeR Launches Friends of Marine Biosphere.
· IMBeR Eutrophication Study Group will hold its 3rd Video Meeting on 20 January 2023.
· SIBER Annual SSC Meeting alongside the IIOE-2 Meeting will take place on 6-9 February 2023 in Perth, WA.
· IMBeR IPR Study Group Video Meeting will be held in February 2023, together with the Chinese Team Annual Meeting.
· IMBeR will host the Scientific Steering Committee Annual Meeting on 3-6 April 2023 in Paris, France.
· The first FEC Fellows Session took place online on 12 Dec. 2022, which not only rallied FEC Academy members to offer mentoring, but also gathered Early Career Researchers (ECRs) from FEC network and Erasmus MACOMA/WACOMA programme to share career experience. Seven FEC Fellows showcased their research and exchanged ideas on potential cooperation. The next FEC Fellows Session, to be convened soon by the end of January with IMBeR's help to circulate its activities on social media platform, will focus on human development and coasts, one of the FEC themes.
· Covering four FEC themes, the FEC conference "Our Coastal Futures" is expected to be held online in September 2023. Registration website has been launched for sign-up.
· FEC will initiate the consultation campaign in 2023, aiming to engage all FEC regional partners and IPO institutions as well as gain a deeper understanding of sustainable coasts.
· Mega-Delta programme shall convene its regular meeting on 13 January. Both IPOs and Mega-Delta will share dates/timetables for all future events and activities so that assistance and support among offices can be provided accordingly.
· The next telecon is scheduled for 10 March 2023.